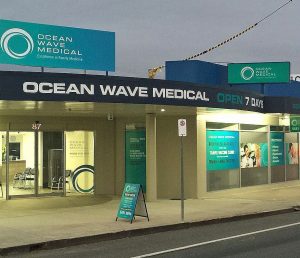 Ocean Wave Medical and Ocean Wave Wellness Centre
(formerly known as Currimundi Medical Centre)
Visit our wonderful modern Medical Centre at 87 Bowman Road. Our purpose built facilities offer more services for our valued patients.
These facilities are first class and modern with the latest medical equipment and offering a 6 day service and longer hours.
A Team of 10 permanent Doctors, 5 female and 5 male Doctors with full nursing support available.
We have modern consult rooms with electric beds in all rooms for ease of use for our patients.
A fully equipped Treatment room with 5 treatment beds plus a Private Procedure Room for minor procedures and a Chronic Disease Clinic.
Onsite we also have QML Pathology, Fulltime Clinical Psychologist, Physiotherapist, Podiatrist, and Denture Clinic and part time Dietitian.
The Ocean Wave Wellness Centre opened in 2019 – Click here for more information on the Ocean Wave Wellness page